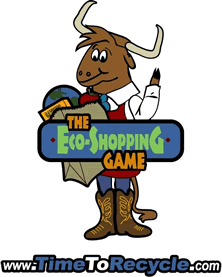 Eco-Shopping Game
The Eco-Shopping game is a game local to the North Central Texas region and was originally created by TXU Electric and Gas in 1997. The purpose of the game is to help educate the consumer on three aspects of product packaging.

1. Recyclability of the package,
2. Reducing the amount of packaging waste going into the landfill by buying products with less packaging, and 
3. Giving preference to a package made with recycled content materials.
Even though it is important to evaluate how environmentally friendly the product is, the game only focuses on how environmentally friendly the packaging is rather than the actual product. The game was originally developed using hand-held computer scanners that allowed the player to select 5 grocery store items that would give them the highest score based on the 3 guidelines above. 

The game helps you recognize that grocery stores usually provide many different options for each product and you have the ability to select the items that have the least impact to the environment as possible. The Eco-Shopping Game helps you learn how to read labels and look for those products with recycled content packaging or packaging that can be recycled, allowing you to make an educated decision on which product you should buy.
Score Sheet
Before playing the game, it might be helpful to print the score sheet to see how each item is scored by category.
Activity / Coloring Book for Kids
The activity book consists of fun games, activities and puzzles to teach kids how to reduce, reuse and recycle.
Teacher Activity Book
The Teacher Activity Guidebook was developed as a resource for teachers to educate their students on important environmental issues. The guidebook provides TEKS compatible curriculum and has several activities dealing with reducing solid waste, reusing and recycling, smart shopping and composting.
*This will open a new window so you may need to adjust your settings to allow it. Turn on your PC speakers as well. The use of sound will enhance the ability to use and enjoy the game.