The information provided below is intended to be a curbside recycling guide for North Central Texas.
Recycle Your Bottles, Cans, Boxes, and Paper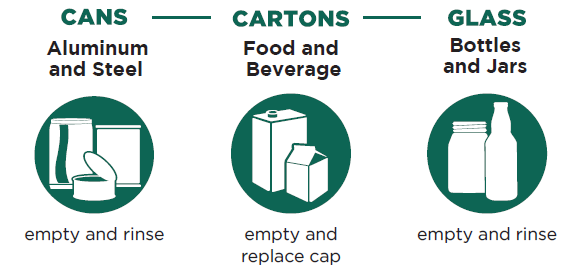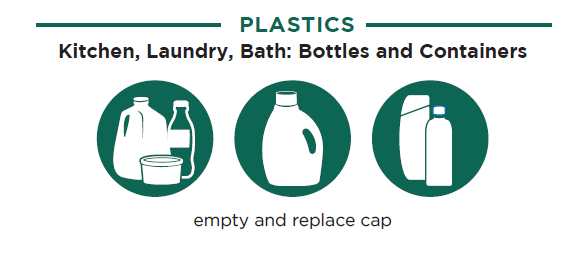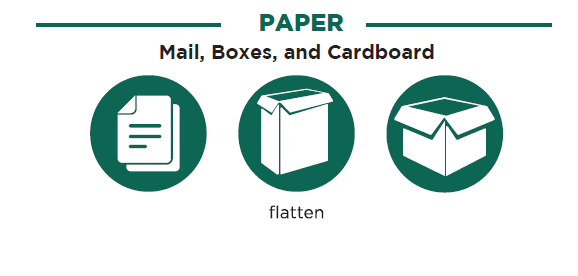 No Bags
Plastic grocery bags are recyclable, just not in your curbside program because they get caught in the sorting equipment. Please take these back to the grocery store so they can be recycled separately.
No Tanglers
"Tanglers" are items such as garden hoses, electrical cords, Christmas light strings, chains, clothing, metal hangers, or any such item that can wrap around equipment at a recycling processing facility. Just put these in the trash.
No Food
Never put food in the recycle bin! This contaminates the other items in the bin and makes them not recyclable so they end up in a landfill anyways. This also goes for food-soiled items such as paper plates, greasy pizza boxes, or fast food containers. Just put these in the trash. Remember: Empty, Clean, and Dry for recycling. If you want to make your food waste useful, start a compost pile! More information can be found on our composting page.
No Batteries
Batteries are recylable, just not in your curbside program because they cause dangerous situations for recycling workers. Batteries can spark when they come in contact with various other materials in the recycling truck or facility, which can cause fires. Too often an entire truck load of recyclables is ruined because a battery started a fire on the truck. Take your batteries to a retailer or city facility that accepts them. Check out our locator to find a place near you.
Not Sure?
When in doubt, throw it out. Placing an item in the recycle bin that does not belong can be costly, dangerous, and could contaminate or ruin other recyclables. Items that are not recyclable are removed from the recycling stream and sent to the landfill anyways. If you believe an item is recyclable but it is not accepted in your curbside pickup program, you can use our locator map to find a recycling facility near you that would take that item. If you want more details and more example items of what to put in the recycle bin, what to trash, and what to recycle separately, please check out our what is recyclable page.